Friday, September 28, 2007
CIS on brink of collapse
//The member-states of the Commonwealth of Independent States are too different to stay together
September 28, 2007 - RBC News - A CIS summit will be held on October 4 and 5 in the Tajik capital of Dushanbe, where the main item on the agenda will be the reform of the organization. Experts have prepared the concept for the further development of the CIS and mechanisms to implement it, but the format of the CIS is unlikely to change: internal pressure within the CIS is high enough that any drastic change could lead to its collapse. Few people have seen the draft reform program, and the only thing that is known for certain is that it introduces the concept of an annual rotation for CIS presidency. Coordinators overlooking the implementation of CIS resolutions will be replaced annually, too, although there are no sanctions for failure to implement them. The only resolution the summit members could consider binding is the adaptation of national legislations to WTO standards. Sixteen years after the collapse of the Soviet Union, CIS countries continue to drift apart from Russia, looking increasingly to foreign partners. This is the message that Belarusian President Alexander Lukashenko and Georgian leader Mikhail Saakashvili are expected to deliver to Vladimir Putin at the summit, as both Lukashenko and Saakashvili have been brought together recently by their alienation from Moscow. In early September, Georgian Internal Minister Vano Merabishvili arrived in Minsk, where Lukashenko assured him of his "excellent" relations with Saakashvili and announced the opening of a Georgian embassy in Minsk and the exchange of diplomatic missions between Belarus and the GUAM nations (Georgia, Ukraine, Azerbaijan, and Moldova). Belarus' membership in the Collective Security Treaty Organization is not considered problematic as it does not give Belarus discount for Russian oil. A summit of the Baltic, Black Sea and Caspian Sea countries is scheduled to open on October 11 in Vilnius, with the agenda including plans to lay a section of the Odessa-Brody oil pipeline through Belarus. In return, Belarus would have to correct its foreign policy. Meanwhile, Tajik leader Amomali Rakhmon also has questions for Moscow. Tajik authorities fear that the Russian builders of the Rogun hydroelectric power station will change the water and energy balance in favor of Uzbekistan. Conversations with Kazakh President Nursultan Nazarbayev will not be easy, either: a Caspian Sea-Russia gas pipeline project has been stalled, while an alternative project from the Caspian Sea to Europe has been gathering momentum. As for Azeri and Armenian leaders, it is unclear whether they will appear at the Dushanbe summit: they prefer to discuss their problems within the OSCE. In fact, Russia itself seems to have turned its back to the CIS, paying more attention to the Eurasian Economic Community, which is scheduled to meet in Dushanbe in early October. "The CIS is turning into what it ought to be: not an integration body but a regional organization for talks, the results of which are not binding," commented Vladimir Zharikhin, Deputy Director of the CIS Institute. "The Community has taken shape as a presidential club, and it cannot claim a bigger role now," agrees Alexander Skakov, at the Russian Institute for Strategic Studies," noting that "CIS countries have become too different."
Corrupt Practices Are the Main Hurdle for Russia's Business
Sep. 28, 2007 - Kommersant - Corrupt practices have become of greater concern for Russia's business. In 2000, for instance, 25.1 percent of entrepreneurs thought bribe-taking serious and very serious problems for business advance, but the number has stepped up to 32.8 percent this year, Vedomosti reported with reference to the poll held by Andrey Yakovlev from Higher Economy School and Timothy Frye from Columbia University. High tax rates worry 57.7 percent of today's respondents vs. 81.7 percent seven years ago. Moreover, the business isn't very happy about frequent changes in laws and difficulties en route to getting the credits. At the same time, the share of those agitated because of the government's interference in business, including control over prices, is gradually narrowing. The number of businessmen, for whom lobbying practices appear quite acceptable shed from 69 percent to 59 percent. The good news is that 77 percent of polled businessmen fund social facilities in addition to paying taxes. The Yakovlev-Frye survey covered 500 representatives of business community of Russia.
Russia's foreign debt down 8.5% to $47.6 bln
MOSCOW, September 28 (RIA Novosti) - Russia's foreign debt has declined 8.5% to $47.6 billion as of September 1, the economics ministry said Friday. As of January 1, 2007, the country's debt stood at $52 billion, the ministry said in an economic monitoring report published on its Web site. The report said Russia had repaid its $80.7 million debt to Portugal, bringing the state foreign debt net repayment to some $145 million in August. The state internal debt reached approx. 1.2 trillion rubles ($48 billion) in late August. This means that the internal debt is higher than the external one, the economics ministry reported. Russia's Prime Minister Viktor Zubkov has called the reduction of foreign debt to 9% of the country's gross domestic product a success of the Ministry of Economic Development and Trade. He said one could count countries with a similar showing on the fingers of one hand.
Monday, September 24, 2007
How Russia is Nationalized: The Nuclear Industry
Sep. 24, 2007 - Kommersant
by Yakov Pappe, Ekaterina Drankina
The nuclear industry is the most multifarious of the topics covered in this series. The state never intended to privatize this industry, but nonetheless so it went in the 90s, albeit secretly and to insiders. Officially the state accumulated these assets. But private investors have appropriated a role on the level of subsidiaries and internal companies.
The Atom for Insiders
Of all the high-tech sectors of the former Soviet economy, the nuclear industry caused the most alarm in the 90s. They tried not to talk about it too much, but they was no guarantee that the motherland's sword and shield wouldn't come crashing down on its own citizens once they left communist hands.
Luckily things turned out well. The market transformations in the nuclear industry took place slowly, calmly and constructively; a large part of its potential was able to be preserved and put to use. We feel that this is largely due to the nuclear Establishment, known for its conservatism and businesslike grip. It is also the result of the nature of the Medium Machine Building Ministry (a pseudonym for the nuclear industry), which was a de facto state within a state. It operated its own construction, transportation, agricultural and electrical industries, just to name a few. There were enough assets to satisfy the appetites of those in the industry that wanted to start their own business. To this day the largest construction company in Yekaterinburg bears the name "Atomstroikomplex" (a Russian abbreviation for "atomic construction complex"), bearing witness to its genealogy. Today it is owned by a former member of the Medium Machine Building Ministry and builds mainly roads and housing.
The private structures that belonged to the atomic establishment were also tightly woven into the system of exporting contracts for nuclear power plant contracts and related equipment. One of the first projects of the atomic elite was to created Conversbank, which in the first half of the 90s held a high place in various ratings and rankings. But by the end of the decade it came under attack by MDM an Alpha. As a result there was a long conflict, during which the main accounts of the industry were transferred to other banks and the winner, MDM Bank, received only the building and an "empty shell."
However the core of both the military and civilian nuclear systems were preserved as state property. The latter were represented mainly by three holding companies. These were Rosenergoatom, which united all nuclear power plants; the wholly-owned TVEL united nuclear fuel production (TVEL is a Russian acronym for "heat-generating elements"); and Tekhsnabexport, which unites the output and export of specialized materials and technologies that are used in the nuclear industry. It also includes enterprises for uranium mining and enrichment.
Outsiders Coming In
Enterprises that put out equipment for the nuclear industry but were not part of the Medium Machine Building Ministry had a completely different fate. The majority of them went through a crisis related to a lack of orders. Some practically died, like the famous Atommash ("Atomic Machines") in Volgodonsk. All were privatized in some from or another. It wasn't the nuclear components of their work that attracted investors, but those that made up other, larger orders and income. In addition to nuclear reactors and equipment for nuclear power stations Izhorsk Factories, for example, was capable of producing special steels and goods produced from it, as well as a wide gamut of machine building products. These products were used on the domestic market as well as exported to other markets. A factory by the name of Degtyzreva (in Kovrov) was famous for two main production forms: uranium isotope separation centrifuges and weapons. ZiO-Podolsk supplies power equipment for nuclear and heating stations in addition to equipment for the oil, gas and chemical industries. The corporate history for each of these enterprises is different. The management of Degtyarev acquired control of the company immediately after its privatization in 1992 and over time increased their share to 52%, leaving the so-called golden share for the state. The remaining shares continually changed hands. Since the mid-90s ONEKSIM-Bank and New Program and Conception Holding (MDM Group) directly owned the large shares. Each tried to gain control over ZiD but were unsuccessful. Izhorsk Factories were also privatized in the mid-90s. Its stock was spread out among a large number of portfolio investors, mainly foreign. In 1998 the enterprise entered the sphere of interest of Kakhi Bendukidze. Within a year his company, Uralmash Factories, acquired roughly 80% of Izhorsk Factories' stock. Of that, 17% was purchased and the remaining share was traded for its own additional offering. The new structure, called Uralmash-Izhora Group, and later United Machine Building Factories (OMZ), claimed the lead in domestic machine building.
ZiO-Podolsk was the last receive foreign investment. Yevgeny Tugolukov, a former manager of MDM Group bought the company and from it formed a mid-sized machine building holding, EMAlliance, which included the Taganrog factory Red Copper-smith and the engineering company Ziomar.
Dispelling the Privatizers
In 2003 Russian large business made its first decisive step into the nuclear industry. Kakha Bendukidze bought a controlling stake in Atomstroiexport (Atomic Construction Export), the main contractor building nuclear power plants abroad. Earlier the controlling stake belonged to atomic-insiders. In our opinion this event was a fatal move for Bendukidze as a Russian entrepreneur and a sign to the state that it was time to regain control over both the core and the periphery of the nuclear industry. Moreover the general ideological mood had shifted in that direction and the money would soon follow. Russia's Atomic Ministry decisively opposed Atomstroiexport's privatization and began searching for a market solution to the problem. As in many other situations, Gazprom came to the rescue. Gazprombank bought Bendukidze's stake and immediately sold the government the shares it needed for control. Some time later Bendukidze, who had become Georgia's economic minister, was forced to sell his shares in OMZ. Officially, the dominating stake in the company belongs to a group of investors represented by Gazprombank. There is active discussion of dividing the company, in which case Izhorsk Factories would move to the soon-to-be government structure Atomenergomash, and Uralmash would become the foundation of another machine building holding.
They were easier on Yevgeny Tugolukov. In 2006 they made him an offer he couldn't refuse. EMAlliance formed a subholding EMAlliance-atom encompassing ZiO-Podolsk and Ziomar. Tugolukov's structure received a 50% minus one stake in the subholding and the newly created state company Atomenergomash bought a controlling stake. About a year later EMAlliance got a new stockholder. Renova bought a 25% minus one share stake from Tugolukov. We feel that Renova was chosen by the state as a desirable partner in the nuclear industry. Renova, in consultation with Rosatom, is presently trying to acquire the uranium assets of YuAR.
The most refined scheme of nationalization goes to the Degtyarev nuclear power plant. In 2005 the plant completely changed its stockholder base. Rosoboronexport (Russia's intermediary agency for exports/imports of defense–related goods and services) bought 43% in ZiD, belonging to MDM-Bank and immediately resold it to Tekhsnabexport. The management sold its shares to Igor Kesaev, a private entrepreneur considered to be a close partner of Rosoboronexport. It seemed that nationalization could be considered finished. But, as the Russian saying goes, one den won't hold two bears, especially when they are both state bears. In 2006 an unexpected solution is found: an asset exchange between ZiD (and a set of other defense enterprises) and Kovrov Mechanical Factory (KMZ). The Degtyarev nuclear power plant went to KMZ and the weapons production of the latter went to ZiD. Likewise Tekhsnabexport received at least 75% in KMZ while Kesaev, it would seem, got close to 100% in ZiD. Experts say this radical corporate restructuring had no negative effect on the nuclear or the weapons industry.
The outcome of the ZiD and KMZ deal seems not only rational, but successful as well. Producers and exporters are concerned about brand, which ZiD has been for many decades. The atomic elite on the other hand aren't so concerned about brand. They will just as successful under the KMZ brand as they were under their maiden name.
Radiating optimism
It seems that the nationalization of nuclear machine building is just a prelude to a real global change. In the summer of 2006 Vladimir Putin approved a development program for the nuclear industry through 2030. The program was proposal by Sergei Kirienko, head of Rosatom since 2005, and calls for the percentage of nuclear energy in the country's total electric output to increase from the current 15% to 23-25%. The scale of the proposal, if it is to be reached in full, is comparable to the dawn of the Soviet nuclear energy. The media usually cite 40 new reactors (officially in 2005 there were 31 nuclear plants in operation). However, in the summer of 2006 Sergei Kirienko stated in an interview in the journal "Business People" that accounting for the current stations that will go offline, 40 new stations will be needed just to maintain the current level of nuclear energy produced in Russia. In spring 2007, speaking at an innovation fair, confirmed that "we have received considerable funds and have set a concrete task – to bring no less than two plants online each year and then raise that to three or four.
A Job for a Superholding
Atomenergomash will hold all civil nuclear systems while Rosatomenergo, TVEL, Tekhsnabexport, Atomenergomash and others will become subholdings. Atomenergomash will be formed in two stages. The first will be to gather all structures that are already owned by stockholders. The second will incorporate those that are not. Atomenergomash will be wholly-owned by the state and will in turn wholly own its subholdings. Private capital will be necessary and welcome as non-controlling shareholders in its subsidiaries. The authors of the Atomenergomash project stress that the holding will compete for the title of world leader in the industry (the other rival being France's Areva, also a state company). In the first two months of its formal existence Atomenergomash fully acquired TVEL and Atomenergozoloto (which holds all of Russia's uranium assets), a testimony to the seriousness with which the authorities are treating the project.
How can one interpret the state's intentions? It is important to note that nuclear energy and industry is the most natural point and for massive state interference. In addition the development of the nuclear industry is really the development of advanced technology. Finally, there are also doubts that the gas and coal energy will be able to completely provide for the needs of the country given the current conditions (not to mention replace gas as an export good in the foreseeable future).
But there are serious arguments against massive nuclear construction. We won't get into the technicalities of the risks. That is a job for the professionals. Although the scale, timeline and political order is somehow associated with a rush job and cause an alarm.
But there are also risks of a purely economic nature. Sergei Kirienko announced that "we are already beginning to see a backlash on foreign contracts. They are slowly putting the breaks on negotiations for foreign tenders because Russia has made developing nuclear energy a priority." Some experts think that the turn from the foreign market is connected to fears in industry leadership over the increasing competition on foreign markets. Whatever the case it sounds frighteningly similar to like state plans. The domestic tasks are not yet formed and they've suggested closing one of the few high-tech exports that regularly brings in billions.
Wednesday, September 19, 2007
"Life span" of Russian prime ministers
Sep. 13, 2007 - Kommersant
Viktor Chernomyrdin
: 1925 days (Dec. 14, 1992 – Marh 23, 1998) Explaining his departure from office, President Boris Yeltsin said that he told Mr. Chernomyrdin "to focus on his political preparation" for the 2000 presidential elections.
Mikhail Kasyanov
: 1378 days (May 17, 2000 – Feb. 24, 2004) "The citizens of Russia have the right to know the suggestions for the make-up of the highest executive organ in the case of my election to the presidency." Therefore, the head of the state considered it fit "without waiting for the end of the electoral campaign, to announce the make-up of the highest executive organ of the state, which must take upon itself a part of the responsibilities for the future development of our country."
Mikhail Fradkov
: 1281 days (March 5, 2004 – Sept. 12, 2007) He explained his resignation by citing "the coming political events in the country and by a desire to give the president of Russia full freedom to make decisions."
Ivan Silaev
: 468 days (June 15, 1990 – Sept.26, 1991) His resignation "was due to his transition to another job," the head of Inter-republic Economic Committee.
Vladimir Putin
: 265 days (Aug. 16, 1999 – May 7, 2000) Left the post after being elected to the presidency.
Evgeny Primakov
: 234 days (Sept. 11, 1998 – May 12, 1999) President Yeltsin praised him for fulfilling "tactical tasks" after the crisis, but emphasized "we don't have the right to put off decisions necessary to build the economy."
Boris Yeltsin
: 222 days (Nov. 6, 1991 named himself chairman of the "reform government," and on June 15, 1992 passed the job to Egor Gaidar.
Egor Gaidar
: 183 days (June 15, 1992 – Dec. 15, 1992) Gaidar explains the president's decision not to submit his candidacy to parliament as a need to "maintain stability in the country."
Sergei Kirienko
: 121 days (April 24, 1998 – Aug. 23, 1998) The reason for his dismissal became the financial crisis. President Yeltsin, commenting on his dismissal, said, "Today we need those we've come to call 'heavyweights'."
Sergei Stepashin
: 82 days (May 19, 1999 – Aug. 9, 1999) President Yeltsin explained his dismissal as necessary "to consolidate society" before the 2000 presidential elections.
How Russia is Nationalized: The Oil Sector
Sep. 19, 2007 Kommersant
by Yakov Pappe, Ekaterina Drankina
- The processes of nationalization in the oil sector are more visible than others and filled with more drama. Still, the state's desire to capture an ever larger slice of the industy's income seems logical. But often the methods and appetite of the state companies contradict this logic. The Creativity of Capitalism
Looking back at the history of the Russian oil industry we find its initial privatization had taken place that by the end of 1997. The state retained about as many companies as it sold, although it often controlled larger and better shares. At the time, the only national company among them was Rosneft with enterprises dispersed across the entire country, from the Far East (Sakhalinmorneftegaz, with an interest in Sakhalin-1 and Komsomolsky oil refinery) to the Southwest (oil production in the Krasnodar and Stavropol regions and Tuapsinskiy oil refinery). But with only one sizable production plant (Purneftegaz in western Siberia). In addition, the government owned Tatneft, Bashneft, Bashneftekhim, which all had connections to the regional elite; company ONAKO Slavneft, created as a Russian-Belarusian project with production in Siberia and refinement in Belarus, which was limited to Russian shares as a result of Belarus' refusal to offer a stake in the Mozyrsky oil refinery. This was all poorly managed and obviously a project left uncompleted.
The state paid no regard to the situation until 1999. Primakov's administration put forward a plan to unite Rosneft, ONAKO and Slavneft, the result of which would be a state company comparable to a private enterprises. However, this idea failed to garner support and was never realized. Low oil prices and domestic issues didn't help either.
Privatization began again in 2000. It's likely that lobbying by the most active private oil companies – Yukos, Sibneft and TNK – had more than a little to do with this. In any case, in 2000 ONAKO was auctioned off to TNK and in 2002 Slavneft was purchased by a TNK-Sibneft alliance. This was the first time that the sale price of oil shares were determined by the market. In 2002, in a fanciful sales scheme, Bashneft and Bashneftekhim were privatized and for all practical purposes ended up in the hands of the son of the Bashkortostan president, Ural Rakhimov.
The climax of Russian oil's "private era" was in 2003 during the creation of TNK-BP. After a few years of animosity and struggling over the shares of SIDANKO, TNK, the de facto victor, offered to merge with the Russian shares of the transnational BP. The Russian shareholders of TNK received 50% of the combined company and … $6 billion. The agreements to create TNK-BP were signed twice, in both Moscow and London, both times in the presence of the Russian president and prime minister of Great Britain.
By the end of 2003 the distribution of power in the oil industry was such: the primary shares were divided between four private companies (Lukoil, Yukos, TNK-BP and Surgutneftegaz), secondary players were represented by the formidable private company Sibneft, and the tertiary "left-overs" were held by the state.
Revenge of the State
It so happened that at precisely this moment in time fuel prices rose to a level that, in the eyes of both the state and society, the oil industry began to (be super-profitable) (In 1998 oil cost less than $9 a barrel and the average price for 2003 was $26 per barrel, and by the end of this year is predicted to surpass $60 a barrel.)
By the second half of 2003 three tendancies had merged together: a desire by the officials to strengthen the state's role in the oil industry, resentment towards Yukos and societal confidence in the justice of nationalizing profitable industries. A radical decision was made: to return Yukos to state property. The means was found immediately: unpaid taxes. Formally, Yukos had been using tax minimization as allowed by current law. And they were not alone in doing so. The judges had to apply maximum flexibility and refinement in order to legally validate the political decision.
No one doubted that realizing this decision would be a long and hard process. One can't just take a controlling packet as payment for debt: the threat of trials by foreign owners or their heirs would hang over the deal like the sword of Damacles. It was decided to take the main oil-producing subsidiary, Yuganskneftegas, as payment for the debt. Without Yuganskneftegas Yukos wouldn't be able to manage with the rest of its back tax claims and eventually go bankrupt and have to be liquidated.
Completing the task took four years. Yuganskneftegas was sold in late 2004 and Yukos was liquidated in August of 2007. All significant shares were purchased by Rosneft, which turned into the undisputed industry leader by all volume indicators (reserves, production, processing). Its important to point out that …
In 2004 not only Rosneft was competing for Yuganskneftegas, but Gazprom as well. Gazprom, however, was denied. The reason (or the excuse) is perfectly respectable. Gazprom has too many shares abroad; lawsuits by upset American stockholders of Yukos could put them under attack. On the other hand Rosneft had no foreign shares and therefore any lawsuits against it would stand little chance. After this defeat the gas monopolist became even more insistent on acquiring oil shares. Their explanation is logical: all large energy companies in the world (ExxonMobil, BP, Shell) have both gas and oil production units.
Its general knowledge that at one time Gazprom was looking to Rosneft to be its "second leg". Chairman of Gazprom's board Dmitry Medvedev voiced a suggestion to merge, paying the state in shares of a supposed additional placement and thereby increase the state's stake up to a control figure. This option never materialized. The complaints of Gazprom were, in our opinion, justifiably considered excessive.
Fortunately for Gazprom, its decision to acquire oil assets coincided with the wishes of Sibneft's owner Roman Abramovich to leave the oil business. Perhaps they consulted with him. But whatever happened, the purchase of Sibneft by Gazprom please everyone. This took place in the middle of 2005 by real market prices – about $13 billion.
With a Rosneft drunk from Yukos and a Gazrpom beefed up on oil, the state has become the key player in the domestic oil industry, able to dictate its conditions to private traders by way of the market, without resorting to state regulation, which is frowned upon by developed countries.
Dialectics… Gazprom Style
In the gas industry we can see two separate ways by which the state is increasing its influence. The first is that Gazprom is acquiring new assets. The second is by increasing its share in the joint stock of Gazprom. The latter was declared over several years to be the main state policy toward energy companies. Nevertheless its purpose is not clear. Here's why.
The state has always had real control over Gazprom. The federal stake held 38.373%, more than 10% was owned by complete subsidiaries of the monopoly, about another 5% was held by Rurgas, the most loyal consumer to the current government in Russia. Then why bring the federal stake a controlling one? Furthermore, the state, we feel, has chosen a strange path to accomplish its goals. In the current state of government finances you could just purchase the shares from Gazprom's subsidiaries and buy the remainder on the market. An even cheaper option would be to seize the shares from the subsidiaries and liquidate them. As a result the state's share would rise to almost a controlling stake and the rest could be bought on the market, domestic or foreign. A third option, integrating Gazprom and Rosneft, as discussed earlier, would give the same result.
Nonetheless we have once again set out on our own path. FGUP Rosneftegas was created in early 2005 and was given 100% of Rosneft's stock. A few months later Rosneftegas, under the aegis of Rosneft's stock, received a loan from foreign banks and by the summer of 2005 had purchase 10.74% of Gazprom from its subsidiaries. Taking into account the 0.889% stake belonging to FGUP Rosgasifikatsiya, this gives the government its sought-after 50.002%.
Awhile back the bureaucrats got to thinking about how they could transfer FGUP stock directly to federal property. But apparently it remains a matter of talk; the task turned out to be too difficult from a technical-judicial point of view.
Immediately after receiving a controlling packet the state fulfills its promises and removes the barriers between foreign and domestic markets of Gazprom stocks and limitations on the amount that can belong to foreigners. But that is not the whole of it. Loans need to be repaid and Rosneftegaz places 15% of its shares, which used to be completely state-owned, on an IPO. But therein lies the point that "marketeers" protest: Gazprom is not the object of nationalization, but its subject. The scale of its expansion surpasses rational limits. In the last three years Gazprom, in addition to Sibneft, has acquired controlling packets of Sakhalin Energy (Sakhalin-2), Rusia Petroleum (the Kovyktin deposit), Nortgaza, Salavatnefteorgsinteza, Mosenergo and 19.9% in Novatek, the largest independent producer of natural gas. Two other Wholesale Generating Companies (WGCs) and the largest producer of carbon fuels, Siberian Carbon Fuel Company, are preparing to be taken over by Gazprom. Complaints have been filed against Toliattiazot, other enterprises in the nitrate industry, Chayanlinskoye natural gas deposit and one of the Sakhalin-3 projects
Moreover Gazprom is actively using its authoritative resource. Too often a buyout will be preceded by ecological or tax complaints, threats to withdraw licenses etc.
Results
The results of nationalization in the oil sector can be summed up in the following: state shares in the oil industry have become comparable to private shares and Rosneft is its biggest company. The situation is not a joke for the rest of the world and, in our opinion, has not changed the market quality of the industry. It has retained its previous competition among several large, vertically-integrated oil companies and as before has room for structures of a smaller scale. It is difficult to guess the government's future plans; the signals are too contradictory. The situation in the gas sector looks less optimistic. Gazprom has yet to cope with the tasks given to it, but expansion, in our mind, cannot help but to bring with it managerial problems. There is no other company in the world that owns all of the gas produced in a country and simultaneously was the largest provider of carbon fuels and be among the top five producers of oil and electricity. The growth of Gazprom's stock, hailed by the company and the government, is not something to be proud of. Currently what the market values most is a growing administrative resource and the willingness to use it unabashedly. It would be nice to see 'high economic efficiency" added to the list, but that's doesn't seem to be in the cards for the time being.
Tuesday, September 18, 2007
Russia: What's Behind Putin's Cabinet Shakeup?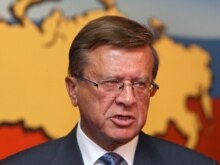 Russian Prime Minister Viktor Zubkov
September 13, 2007 (RFE/RL) By Victor Yasmann - The surprise replacement of Russian Prime Minister Mikhail Fradkov by the obscure figure of Federal Financial Monitoring Service Director Viktor Zubkov has prompted a lot of questions, mainly boiling down to: Why did President Vladimir Putin take this step and what will come next? The first question is easier to answer. It is an open secret that Fradkov's government -- like other Russian state institutions -- is riddled with pervasive corruption and that several cabinet ministers have become millionaires during their time in office. Charges of nepotism have reached to Fradkov himself. In June, gazeta.ru reported that Fradkov's son, Peter, had been named to the board of directors of the state-owned Bank Razvitiya (Development Bank). Fradkov himself is on the bank's Advisory Council and Fradkov's other son, a Federal Security Service office, works for the state Vneshtorgbank, which controls Bank Razvitiya. In such an environment, Putin could not be sure that some cabinet members might not back their own economic interests over Putin's during the upcoming Duma and presidential election campaigns.
Controlling The Money
In addition, some key cabinet members control huge monetary flows that Putin himself likely wants to control during the election period through his own, entrusted person. Among these key members are Health and Social Development Minister Mikhail Zurabov and Economic Development and Trade Minister German Gref, both of whom have been the subject of heavy criticism, including from Putin personally. Zurabov is wildly unpopular -- especially among left-oriented constituencies -- for his botched social reforms, while Gref has come under fire for his pro-Western, pro-market orientation. In addition to gaining control over government funds -- including the Pension Fund -- removing these two ministers from the government could give a boost to the left-oriented pro-Kremlin A Just Russia party as it struggles to woo voters away from the Communist Party. Putin's decision to replace the cabinet also has a pragmatic aspect. He does not want the government to become an election headquarters as was the case during the elections of the 1990s. Since the Kremlin's plans clearly involve a smooth handoff of power based on the premise that the Russian people are overwhelmingly satisfied with the current state of affairs, it is important that the government continue to function normally through the election season and that it not become overly politicized. More likely, though, given Zubkov's age (he turns 66 on September 15) and low profile, Putin wants to give his anointed successor (yet to be revealed) a ready government headed by a Putin loyalist. Doing so creates two centers of power that Putin could balance against one another.The prime minister is, under the constitution, the second most powerful person in Russia, seemingly implying that Zubkov could put himself in a position to run for the presidency himself next year. Speaking today, Zubkov refused to rule out a possible run for the presidency "if I achieve something as prime minister." More likely, though, given Zubkov's age (he turns 66 on September 15) and low profile, Putin wants to give his anointed successor (yet to be revealed) a ready government headed by a Putin loyalist. Doing so creates two centers of power that Putin could balance against one another. Zubkov seems a perfect choice for achieving the goals described above. He met Putin around 1992 when he worked as Putin's deputy in the St. Petersburg mayoral administration. A former midlevel Soviet Communist Party functionary, Zubkov impressed Putin as an able manager devoid of political ambitions.
Movement Of Legal, Illegal Assets
The president's confidence has grown since Zubkov was tapped in 2004 to head the newly created Financial Monitoring Service. Although Zubkov is an economist and was never a professional intelligence officer, he de facto turned into one during his years heading this agency. His main task -- successfully executed -- was to improve Russia's reputation in the eyes of the international Financial Action Task Force, which monitors global money laundering. Under Zubkov, Russia was able to improve relations with the task force while not actually doing anything serious about corruption. But Zubkov's main value for Putin may well be that he probably knows more than any other person about the location and movements of legal and illegal assets in Russia. The appointment of Zubkov does not seem to have had any impact on the presidential prospects of First Deputy Prime Ministers Sergei Ivanov and Dmitry Medvedev. Ivanov still seems positioned as the No. 1 candidate. He commented favorably on Zubkov's nomination on September 12 while speaking to members of the Valdai Club, an organization of leading world Kremlinologists that has been patronized by Putin in the past. Looking to the future, and as a new government structure takes shape, it is safe to say Putin will continue the process of putting devoted loyalists into power at both the federal and local levels. In recent months, dozens of governors and mayors have been replaced. As part of this effort, Interior Minister Rashid Nurgaliev last month set up special regional police teams that will be reopening old corruption probes dating back to the 1990s. Also, earlier this month, a new Investigative Committee was created that has taken over all politically sensitive investigations, including those into government officials and Duma deputies. The committee, which is touted as a rough analogue to the U.S. Federal Bureau of Investigation, is headed by a longtime Putin friend, Aleksandr Bastrykin. Perhaps giving an indication of which way the wind is blowing in Russia, Liberal Democratic Party of Russia leader Vladimir Zhirinovsky told RTR on August 27 that officials from the era of former President Boris Yeltsin should leave office before the presidential election. "If they don't," he said, "after March they will go to Chita (the Far Eastern region where former Yukos CEO Mikhail Khodorkovsky is serving out a prison term on tax-evasion charges)."
Monday, September 17, 2007
How Russia Is Being Nationalized
Sep. 10, 2007 - Kommersant - In 2004, Kommersant Publishing House began the "Who Owns Russia" project, which researched the large private property holdings in Russia that formed as a result of privatization. Today we are talking about the opposite process – the formation of a powerful government sector in the Russian economy. In our new project, How Russia Is Being Nationalized, we discuss how that is happening and what it means for the country and its citizens.
The Subject Matter
Nationalization is defined differently by different economists and politicians. That is natural, of course, since it is the most radical method of strengthening the state's role in the economy. To avoid lengthy discussion, we will take the simplest working definition of the word, in our view. Nationalization is the transfer of control of any asset from a private structure to the state. State control may be direct or indirect, but it must be based on legitimate property rights. That is to say that, when the police confiscate a knife from a criminal, it is not nationalization, any more than the expropriations the revolutionary masses made from the expropriators were in 1917. Nationalization has been the most notable process in the Russian economy for more than four years and it is not too early to ask about intermediary results. Has it lead to radical changes in the economy? Are racing toward a planned economy? In our view, the answer to those questions so far is "no." The state sector is growing rapidly but, for the main part, businesses and companies continue to live by market rules. That includes those that have become government property. The point of no return is still far ahead.
Knowing that our view may seem excessively rosy, we will provide one argument for it. We were only able to count five large private businesses that left there historical arenas as a result of processes of nationalization. Those companies are YUKOS, Sibneft, Irkut, Power Machines and the Industrial-Construction Bank of St. Petersburg. For the same reason, two state companies, Sukhoi and MiG, ceased to exist. They, along with Irkut, become the core of the United Aviation Construction Corp. There were four large state businesses created. Those are UACC, the recently founded Helicopters of Russia helicopter-construction holding and the United Shipbuilding Corp. And then, of course, there is Rosneft, which was undeniable a different company before its acquisition of YUKOS. We will discuss Gazprom's bloating in the next article in the series, but for now we will note that it has not become a different company. Those shifts, though noteworthy, do not constitute a cardinal change in the market.
Beginnings and Endings
The official start of nationalization was in December 2004 with the sale of Yuganskneftegaz to Rosneft. But we can start from two years earlier than that. In 2002, Gazprom set about to regain its straying assets. Through the efforts of the management and well-known metals businessman (and Kommersant owner) Alisher Usmanov, head of Gazprominvestholding, SIBUR, Stroitransgaz and the main gas-producing assets of Itera returned to Gazprom. Since Gazprom transferred other of its holding to private ownership at the same time (it sold share packages in the Oskol Electrometallurgical Plant and the Lebedinsky Mining and Dressing Plant to Usmanov and the National Reserve Bank to Alexander Lebedev), those actions were perceived as state-supported optimization of the corporate structure. At that time, privatization processes were still dominate at the state level. INAKO oil company was sold in 2002, and Slavneft at the end of 2002. The establishment of the TNK-BP company, with approval from high places, in the first half of 2003 put an end to any fears of nationalization. Only the most foresighted person could have seen at that time that the arrest of YUKOS co-owner Platon Lebedev would lead to a change in government policy toward private business.
Today, the number of large nationalized businesses and banks is approaching twenty. That many more are on the horizon. Pending court decisions may take Russneft (the most notable assets of which are oil producer Varyeganneft and Varyeganneftekhim), Bashneft and Bashneftekhim. Atomenergoprom is being formed to united civil assets in atomic energy under state control. Rosoboronexport is continually establishing holdings in various industries. The latest of them is Russian Special Steel (It is already known that the Red October plant in Volgograd and Stupino Metallurgical Production Association are to be incorporated into it.) and Russian Composites (about which the general public knows nothing but the name). Rosoboronexport is in a good position to set such goals and achieve them. It created the Helicopters of Russia holding and it manages carmaker AvtoVAZ. Other state monopolies have ambitions as well. Russian Railways intends to buy a blocking package in its main equipment supplier Transmashholding, and Gazprom will acquire a significant share in the thermal electric industry and in SUEK, the main producer of coal for power generation. It will also take under control of all the natural gas assets in the eastern part of the country under exclusive conditions. If all of those plans are realized, the question of the extent Russia has a market economy will have to be reexamined.
Doing the Same Thing for Different Reasons
It is obvious to us that the authorities did not have a nationalization plan, do not have one, and are not expected to make one. (That is not to say that there are not a certain number of papers with titles of that sort, written on orders from above, or not.) There are specific actions taken for various reasons. We have succeeded in identifying six such reasons.
The first is industrial, that is, the conscious decision that state domination should be guaranteed in various sectors. At the moment, that is the oil industry (because it is the most profitable) and the atomic industry (because it is the most sensitive). There is no need to mention gas because the state has always controlled it. There is a definite logic to such an approach, but no one said that it cannot be applied to other sectors, and an unlimited number of them. Second, there is the elementary profit motive in state monopolies. That motivation clearly drives Gazprom to invest in Sakhalin 2 and the Kovykta deposit, and impels Rosoboronexport to buy the VSMPO-Avisma titanium holding. Russian Railway's plans to buy a blocking package in Transmashholding look the same. The explanation that a major supplier has to be controlled is not convincing. It is better for market structures to buy equipment on a competitive basis and not from a dependent company.
Third is national security. Or at least speculation on it. Someone has declared several industries or parts of them critical for the country, and in connection with that, the need for complete state control is found. Rosoboronexport head Sergey Chemezov has a particular knack for it.
Fourth is an honest attempt by the government to take on the role of anticrisis manager in a branch of industry that really needs it. That was the case with AvtoVAZ. Rosoboronexport managers took over the management of a tired, unprofitable enterprise with an extremely confused ownership structure and cooperative ties. If it has any noticeable success with it at all, it will deserve a monument for it. The same is true of UACC. By combining successful military aviation enterprises and unsuccessful civil ones, the state is trying to pull the entire industry up, using money from the federal budget, state resources, and the best managers from the private sector. The chances here, we think, are definitely high. The creators of United Shipbuilding had similar motives, but it encompasses only state-owned wharfs so far.
Fifth is mutual desire for nationalization. That is when the owner of a certain asset wants to leave the business and is able to convince the government of the appropriateness of buying it. A wide range of experts say that that is what happened with Sibneft and the Industrial-Construction Bank, which were bought by Gazprom and Vneshtorgbank, respectively. Former owner of the Industrial-Construction Bank Vladimir Kogan changed careers and is now deputy head of Rosstroi.
Last is what we would call "no reason." Here we lump together actions that were situational or lacked clear motivation. For example, no one wanted to buy or sell Guta Bank. But it was in a difficult position and many depositors could have suffered, so the state, in the form of VTB, had to intervene. Guta Bank was bought for the symbolic price of 1 million rubles and renamed and reorganized as VTB Retail Services (VTB-24). Along with Guta Bank, VTB received shares in the Perm Motor Complex, that were completely useless to it and that have reportedly been resold to AFK Sistema. Gazprombank similarly received Uralmash along with Power Machines, which was nationalized for the sake of the atomic industry. One peculiarity of that deal was that the main seller was Power Machines founder Kakha Bendukidze, who was at that time already a minister in the no longer friendly Georgian government, so everything had to be bought, and very quickly.
In our view, the most successful of these actions, the acquisition by the state of a controlling package in Gazprom does not have a rational explanation either. At the time when that goal was set, the state had 38 percent of the shares, with another approximately 10 percent belonging subsidiaries of the monopoly and 5 percent in the hands of Ruhrgas, a major consumer, from the point of view of loyalty to Russia. The stock buy-up was nothing more than the formalization of the control that had always existed. It is impossible to say anything more than they felt like doing it. It was easy to do, the PR was positive, so why not?
A few common threads unite all of those motivations. Two any way. They first is an underlying idea that high state participation in the economy is good. The second is that consolidation will save the world. If there is a problem in some branch of industry, it is obviously because there are too many parties involved in it. The proposed solution is to concentrate resources in the main areas, unite the small with the large and eliminate duplication and unnecessary competition. The fact that such logic is antimarket is obvious. But even the Soviet economy, in its most successful branches, was not fully consolidated.
Movers and Shakers
Russia, as it often does, it taking a complex and indirect path to nationalization. The classical method it the direct purchase of assets by the state. Strictly speaking, it was used only in the creation of UACC. In all other cases, private assets were transferred to the partial or complete control of state companies that were commercial structures. Arranged according to level of nationalization, Gazprom is indisputably in first place. Sibneft, SIBUR, the gas producing assets of Itera, Sakhalin 2, the Kovykta deposit and a number of electric generating facilities have come under its control, and SUEK may be added to the list presently. In addition, Gazprom and its subsidiaries can act as intermediaries, as Gazprombank did in the purchase of Power Machines. Second after Gazprom is Rosneft, which moved up from sixth-largest Russian oil company to first-largest through the acquisition of YUKOS assets. Rosoboronexport ranks third by assets, but higher by ambitions. With AvtoVAZ, VSMPO-Avisma, Helicopters of Russia, Russian Special Steel and Russian Composites under it control, it has gone from military hardware trader to a sort of commercial ministry of industry. Number four is Vneshtorgbank, the banking consolidator. The modesty of the state's direct role can be explained by two reasons. The first is formal. Money for buying assets in the private sector is not allotted in the federal budget, and even with the current subservience of legislators, it would be hard to work that into the budget. The second reason is more important. In our view, the political leadership does not have great confidence in officials and approaches the expansion of functions of state agencies with caution. No one wants to recreate a ministerial system as such. If one looks carefully at current nationalization, it can be seen that it does not involve the complete displacement of private business. The formal strengthening of state control over Gazprom was accompanied by liberalization of the market for its stock. That is, it was a market step, not antimarket, since a private investor received 49 percent of the normal stock unencumbered by arcane circulation schemes. Rosneft simultaneously acquired YUKOS and held a "people's" IPO, releasing 15 percent of its stock onto the market. At VSPMO-Avisma, a small stock package was left to the general director and the rights of minority shareholders were not damaged. Even in the atomic holding, private business is planned on the level of subsidiaries or lower. Thus the government is planning to work with private business and share it profits, as well as to use its resources, including managerial. The split outlook of the political leadership, with their distrust of officials and preference for state ownership over private, encourages optimism. In our view, there is not yet reason enough to condemn Russian nationalization completely in its historical, international context. There has not been enough time or cause. But we will allow ourselves a few short observations. Compared to China, where the state still manages the most important assets directly, what Russia has looks more market-oriented. ranches of industry that are considered strategic have been nationalized sometimes even in Western Europe. We will recall France in the 1950s through 1970s. In the modern world, the tendency toward state domination in profitable sectors is characteristic of Latin America, where there is a dirigiste policy in some countries (Mexico, Venezuela) and the Middle East (Iran, Saudi Arabia). Those associations do not flatter Russia, nor do they make it attractive for non-speculative investment or partnership.
Nationalization of Large Industrial Enterprises, 2002-2007
• Instrument of nationalization Object of nationalization
• Federal authorities Gazprom Bashneft Bashneftekhim
• Gazprom Sibneft, Sakhalin Energy (Sakhalin 2), Russia Petroleum (the Kovykta deposit), Nortgaz, major Itera gas-producing assets
• Gazprombank Power Machines
• Rosneft Enterprises formerly belonging to YUKOS
• UACC Irkut (Irkutsk Aviation Production Assoc, Yakovlev Experimental Design Bureau, Beriev Taganrog Aviation Complex), Sukhoi, MiG
• Rosoboronexport and Oboronprom AvtoVAZ, VSMPO-Avisma, Russian Special Steel (Volgograd Red October, Stupino Metallurgical Production Assoc.), Helicopters of Russia (all helicopter plants and design bureaus), Defensive Systems
• Atomenergoprom Atomstroiexport, EMAlliance-atom (the ZiO-Podolsk plant), Kovrovsky Mechanical Plant
• Vneshtorgbank Industrial-Construction Bank, Guta Bank Yakov Pappe, Ekaterina Drankina
Gazprom tried to top Murdoch's $5-bln bid for Dow Jones
LONDON, September 10 (RIA Novosti) - State-controlled Russian gas giant Gazprom tried to outbid a $5-billion offer for The Wall Street Journal's publisher, Dow Jones & Co., from media giant News Corporation, The Times reported. The British paper, owned by Australian media mogul Rupert Murdoch's News Corp., said Monday the bid underscored "Gazprom's and Russia's global ambitions," but that it had had little chance of success. "If Gazprom had proceeded, it is thought highly unlikely that The Wall Street Journal would have been allowed to fall into the hands of a state-backed Russian company," the Times said. The newspaper highlighted the Russian energy giant's media acquisitions, in particular its takeover of the previously-independent Russian TV channel NTV in 2001, and its buyout of national daily Izvestia. News Corp. offered $60 a share for Dow Jones on May 1, a premium of around 67% on the company's share price before Murdoch's bid was announced. According to The Times, the U.S. Securities and Exchange Commission confirmed that "an international oil and gas company" had bid for Dow Jones. The paper cited "a source" who confirmed that the company was Gazprom [RTS: GAZP].
Oil industry battles declining skills reserve
06 September 2007 - Upstream OnLine - The international oil industry is struggling to find skilled workers needed to drive a boom in exploration and production activity spurred by record oil prices. Faced with skill shortages and an ageing workforce in some key jobs, oil companies are trying to attract new blood by tapping university graduates and school-leavers. But executives say companies must be much more proactive in recruitment to attract graduates who now can pick and choose from a myriad of career options and see the oil business as an old-fashioned "dirty" industry. A shortage of highly-specialised professionals including sub-sea engineers, geoscience experts or reservoir engineers has caused painful cost rises for oil companies, even though many are now earning nearly $70 a barrel for oil. The scarcity of staff with specialist experience has led to companies poaching from each other. "The industry does tend to pick its own pockets in terms of talent," said Mark Carne, vice president at oil and gas company BG Group. "We all recognise it's particularly pressing," he told Reuters. Industry analysts blame the skills gap on staff leaving the industry when times were harder amid lower oil prices and not returning when things pick up. The younger generation may be turned off by oil's image as a heavy, sunset industry, industry executives say. "The demographics of the industry are changing," said David Lesar, chief executive of US oil services company Halliburton. "It's no secret that the average person in the industry is now in their mid-40s, statistics show." A survey by Oil & Gas UK, published in April, found the average age of the total workforce on the UK continental shelf was 41 years, while some categories were younger. The problem of an ageing workforce is particularly an issue in North America and Europe. But some in the industry believe the problem has been exaggerated. "Offshore, the ageing workforce is a myth," said Chris Allen, a director of Oil & Gas UK. There are plenty of applicants for new apprenticeship schemes and graduate entry schemes, he said. "The North Sea is at capacity, but we don't have a problem attracting people offshore." Tom Botts, executive vice president of exploration and production at Royal Dutch Shell in Europe, said skilled staff in sub-surface engineering and reservoir and well engineering were in particularly short supply. And in the UK there are not enough students on engineering courses. "We need to get into the schools because just getting them out of university is not enough," said Botts. In contrast, India, Russia and China are churning out thousands of petroleum engineers, industry executives say, so hiring local staff in these regions can be part of the answer. Lesar said the majority of Halliburton's workforce overseas was drawn from local workers. Halliburton will hire 14,000 people this year, adding to its existing staff of 50,000, showing that people wanted to come into the industry, he said. But a survey of oil and gas operators and related contractors in the Aberdeen area, the UK hub for the North Sea oil industry, found nearly 90% of contractors were looking for new staff.
Wednesday, September 05, 2007
Accrued foreign investment in Russia grows 40% over year
MOSCOW, August 15 (RIA Novosti) - Accrued foreign investment in the Russian economy increased 39.5% to $178.5 billion from late June 2006 to late June 2007, the country's top statistics agency said Wednesday. "In the first half of 2007, the Russian economy received $60.3 billion worth of foreign investment, or 160% more than in the first half of 2006," the State Statistics Service said. The largest part of accrued foreign investment was represented by loans (52.8%) followed by direct investment (45.2%) and portfolio investment (2.0%), the statistics service said. Russia's main investor countries in the first six months of 2007 included Great Britain, the Netherlands, Cyprus, Luxembourg, Switzerland, France, Germany, Ireland and the United States, accounting for 86.3% of the value of accrued foreign investment and 85.1% of the value of accrued direct investment, the statistics service said. At the same time, the country saw strong capital outflow in the period under review. Accrued investment from Russia stood at $25.9 billion at the end of June 2007. Russian investment abroad increased 140% year-on-year in the first six months of 2007, to $36.8 billion, the statistics service said.
Russia-China trade to hit $40 bln in 2007 - ambassador
MOSCOW, August 10 (RIA Novosti) - Trade between Russia and China is expected to reach about $40 billion in 2007, $7 billion more than last year, the Chinese ambassador to Russia said Friday. "In the first half of this year, trade between China and Russia totaled $20.470 billion. For the whole year, trade will exceed $40 billion", Liu Guchang told a RIA Novosti news conference. The presidents of Russia and China - Vladimir Putin and Hu Jintao - are set to meet in Russia's Urals at the end of next week, to watch the final two days of an international anti-terrorism exercise involving Asian countries and Russia. China, whose booming economic growth has brought with it soaring demand for fuel and electricity, has become a major buyer of Russia's oil and gas, as well as arms. Russia in turn relies heavily on imports of Chinese consumer goods, and recently became the largest importer of Chinese cars. The diplomat said that although trade had leaped fivefold since 1999, it still "does not reflect the economic power and capacity of China and Russia, and is well behind the high level of their political relations". The ambassador said expanding bilateral cooperation is an important for both countries, and that there is strong potential for future growth.
Contact me: